Pre-order! release date: July 16th
Every story has a beginning in F1® 2021, the official videogame of the 2021 FIA FORMULA ONE WORLD CHAMPIONSHIP. Enjoy the stunning new features of F1® 2021, including the thrilling story experience 'Braking Point', two-player Career, and get even closer to the grid with 'Real-Season Start'. Take your team to the top in the acclaimed ten-year 'My Team' Career mode, or race head-to-head in split-screen and multiplayer.
Immerse yourself in the greatest racing spectacle on the planet and race with the authentic lineup of twenty heroic drivers and ten iconic teams from the 2021 season:
- 'Braking Point' – the thrilling new story experience
- New ways to play: two-player Career and 'Real-Season Start'
- Acclaimed 'My Team', split-screen and multiplayer
* Online connection required to download the final F1® teams' 2021 cars, full season circuit
selection, content (as applicable) and F2TM 2021 season update.
THE OFFICIAL VIDEOGAME OF THE 2021 FORMULA ONE WORLD CHAMPIONSHIPTM

'BrakingPoint' –the thrilling new story experience.

Newways to play: two-player Career and 'Real-Season Start'.

MyTeam mode - create a driver, choose a sponsor, an engine supplier, hire a teammate and

compete as the 11th team on the grid.
ExpandedDriver Stats that now include 'Focus' and new team-critical Department Events to

address.
Split-screenracing for two players.

Casualrace options for more relaxed racing whilst new Expert options give experienced players

even more control.
Acclaimedten-year Career Mode, including updated Research and Development and Practice

Programmes, and new Quick Practice.
Formula2TM, the ultimate training ground for F1®, is also included, with short, medium, or full

season options and 2020 and 2021 season content *.
Esports- in-game area for the online qualification events, latest news and even watch the new F1®

Esports Challenger and Pro Series races.
Moreways to race: Time Trial, Shorter season length options, Grand PrixTM Mode and relive your

glory with saveable automated highlights.
Competeonline in Multiplayer: Social and Ranked races, new Quick Join format, Leagues,

customisable

liveries

,

and

Weekly

Events

.
Pre-order:
BrakingPoint Content Pack

Celebratethe release of F1® 2021 with exclusive in-game items inspired by the fictional stars of
the new 'Braking Point' story experience. Equip them to race as Devon Butler, Aiden Jackson, and
Casper Akkerman:
Characteravatar | Car livery | Suit | Gloves | Helmet | Victory radio voices

5,000

PitCoin

virtual

currency

to

spend

in-game
F1® 2021 Game - an official product of the FIA FORMULA ONE WORLD CHAMPIONSHIP. © 2021
Electronic Arts Inc. The F1 logo, F1, FORMULA 1 and related marks are trade marks of Formula One
Licensing BV, a Formula 1 company. Licensed by Formula One World Championship Limited. The F2
FIA FORMULA 2 CHAMPIONSHIP logo, FORMULA 2, F2 and related marks are trade marks of the
Federation Internationale de l'Automobile and used exclusively under licence. All rights reserved.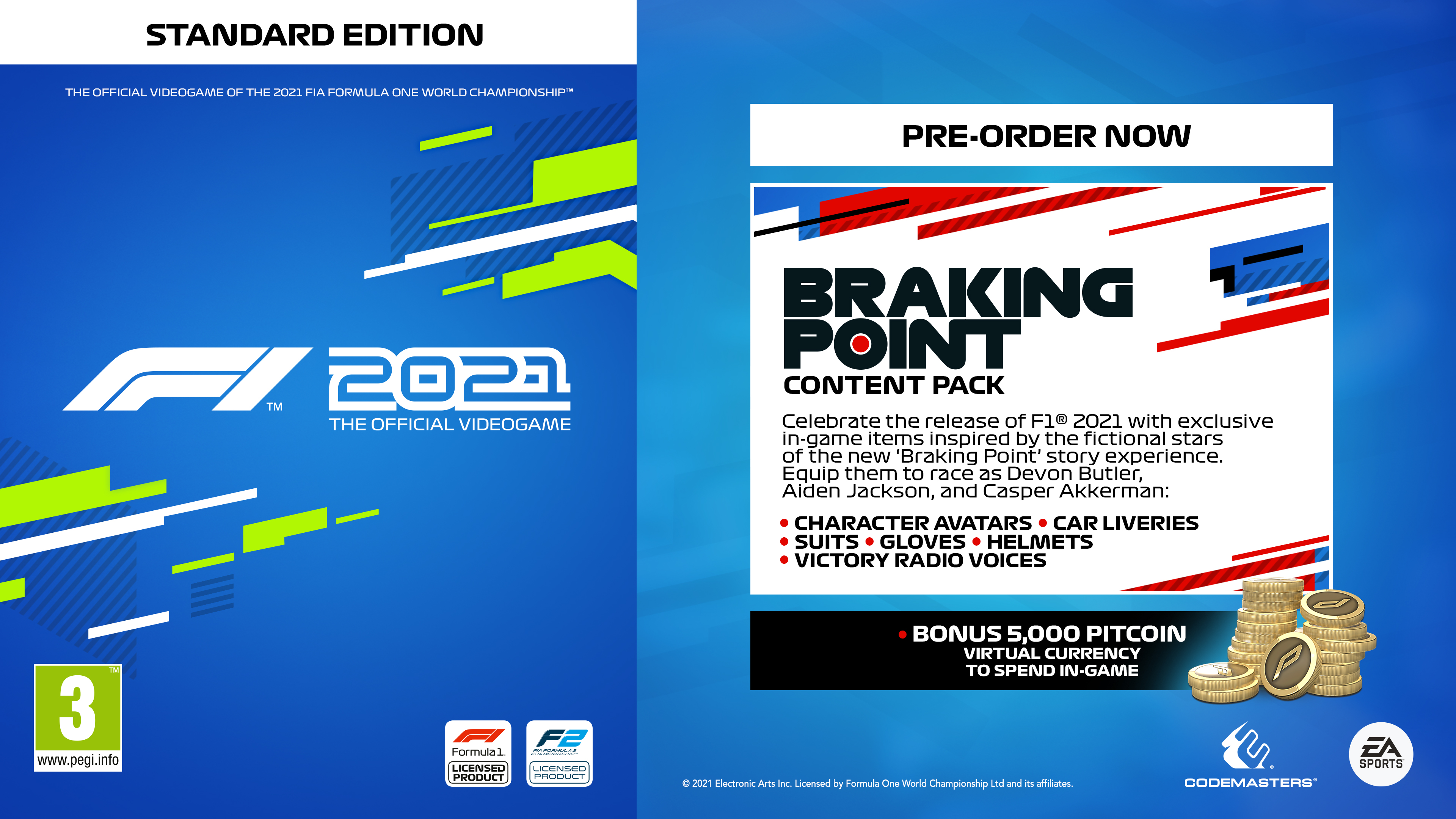 Product Details
Age Restrictions
3+
Developer
Codemasters
Genre
Racing simulator
Language
English
Platform
Xbox One/Series
Publisher
Electronic Arts