2DS / 3DS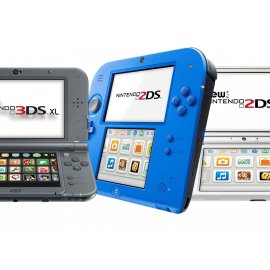 ---
Donkey Kong Country Returns is the Nintendo 3DS remake of the Wii title Donkey Kong Country ReturnsThe game is a side-scrolling platform title where the player takes the role of Donkey Kong (helped by his friend, Diddy) and tries to recover his stolen banana stash by completing stagesThe player will embark on a quest through various parts of an island and battle different enemies in multiple themed areas, such as jungle, beach, forest, caves, and volcanic environmentsDonkey Kong Country Returns ..
£15.37
Join Luigi on a ghost-grabbing adventure in this spooky sequel to a GameCube classicStereoscopic 3D adds greater depth and atmosphere to the crumbling mansion surroundings (can be played in 2D too!)Use the Poltergust to uncover secrets, treasure, even new areas!Figure out how to deal with a variety of ghastly ghosts and fiendish phantomsPlay with up to three friends either locally or online and work together to clear the Scarescraper of pesky poltergeists!Compatible with 3DS, 3DS XL, 2DS, New 3D..
£15.37
Following in the tradition of previous games in the Pokémon series, players choose one of three special Pokémon to be their first partner. These are among the first Pokémon players will encounter in the game. In Pokémon Sun and Pokémon Moon, players will be able to choose between the newly discovered Grass- and Flying-type Pokémon Rowlet, Fire-type Litten, and Water-type Popplio. For a Pokémon Trainer, knowing the Pokémon types and how they match up against one another in battle is vital. Grass-..
£14.75
Showing 1 to 3 of 3 (1 Pages)